About Green Door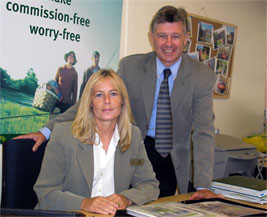 Green Door's origins began in 2001 with a private property sales service designed to help vendors sell without paying high commission costs. The business continued to develop its range of services until it rebranded as Green Door in 2004 when the owners, Gary and Dee Le Petit, launched their first franchise. In 2021 Gary and Dee passed the reigns to Mike Harvey in Nelson.
Following an extensive period of market research, in 2008 Green Door Real Estate subsequently launched its unique 'best of both worlds' offering and created its separate, REAA-licensed agent division, thereby offering clients the choice of selling their property either by engaging the services of Green Door's team of high-quality, licensed real estate agents (and for a very attractive commission rate) or by purchasing a private sales marketing pack. If you want to sell your property for the best possible price and receive the best possible service, then Green Door Real Estate's revolutionary dual agent/private sales service is designed to help you and, whichever service you choose, we'll ensure that you achieve outstanding results with real value.
Green Door's Philosophy
Our principal focus is always centered on your needs and on achieving the successful sale of your property for the best possible price, in the shortest possible time with the greatest possible savings. Your satisfaction is our reward.
A question from a client's perspective. Aside from the many thousands of dollars I'll save as a result of selling my property using Green Door Real Estate's range of low-cost, high-value real estate services, what else can I expect when I choose to sell through Green Door?
Answer. The Green Door Real Estate team has a combined wealth of local and international real estate marketing expertise and, regardless of whether you choose to sell your property using the services of our licensed agents or if you buy one of our private sales packs, you'll receive the highest possible level of customer service, delivered by people committed to achieving the best possible result for all our valued clients.
Contact Green Door Real Estate today to find out why so many satisfied vendors are electing to sell through us across the country and using us time and time again. We're here to help - genuinely.
What have you got to lose? Well, actually a good deal.
Contact us today. You most certainly won't be disappointed - but you may well be if you don't.
Email: admin@greendoor.co.nz
Freephone: 0800 088 088
Our Locations

Green Door locations near you:
Northland, Auckland, Bay of Plenty, Nelson/Marlborough and other areas.

Our Offices

Our People

For all your real estate
requirements, contact one of
our licensed salespeople today.

Our People

Real Estate Updates

Register here
and be kept up to date on
what's happening in real estate.

popup

Newsletter Registration